Regular price
Sale price
$5.50 USD
Unit price
per
Sale
Sold out
The basics: 
 CTS potentiometers are the standard for quality in guitars. Short shaft potentiometers are used for through pickguard applications and the thinner side of a carved top guitar. We carry values of 250k and 500k ohms. Generally 500k is used for volume and tone on Humbucker equipped guitars, and the 250k for  volume or tone for single coil equipped guitars, though there are certainly exceptions to these guidelines. 
The 1/4 inch height is perfect for Pickguard Mounted electronics. 
The Taper Question: 

In our years of experience in the industry, there are a good number of people who don't know anything about the Taper on the potentiometer, in fact, maybe even the majority of our customers haven't given it a lot of consideration. Let's dive in on it. 
A lot of us complain about how our amp is quiet and then after turning the volume just a little bit, it's blasting us away. At least part of this phenomena is due to the taper of the potentiometer in use, and the same thing happens with our guitars in a way that we can even better isolate the significance of the taper. Basically, a linear taper potentiometer follows a direct correlation between rotation and percentage of resistance. At 50% turned through the knob's travel, the resistance will be 50% of the total amount. With a linear taper, at 50% of travel on the knob, you might only be at 20% of the full resistance, and then at 80% rotation you might be at nearly 90% of the total capacitance value, a much faster climb. As to why these different tapers exist, check out the Awesome Science Content section below. You'll want to consider which works for you and what you want to experience in your playing. 
In terms of the traditional complement of potentiometer, import models tend to use Audio taper for Volume and Linear Taper for Tone. Fender tends to use Audio Taper for both, though there are plenty of exceptions. Gibson has wavered over the years, though Epiphone uses linear for Volume and Audio taper for Tone. 
In our opinion, Linear taper is easier to set for a particular level, but audio taper pots can create a faster and more distinct volume swell or boost effect. 
Awesome Science Content
We most often hear volume measured in units of decibels. If you are an audio engineer, you'll likely use other measurements, such as sound pressure level, or SPL. SPL is the difference in air pressure (measured in Pascals) from ordinary to sound wave hitting the eardrum. We measure SPL in Decibels. Decibels aren;t s static measurement, however. A Centimeter is always a centimeter no matter where it is on the ruler. Decibels are based more on human perception of the sound pressure wave, and humans hear by a relative comparison of differences in volume. In other words, we hear a doubling in loudness more precisely than a doubling in air pressure in Pascals. Every ten decibels (deci=10) is a doubling in perceived volume. 
Let's use a very simplified mathematical formula to demonstrate. If we go from zero to 10 decibels and call that 5 units of air pressure waves. When we double it to 20 db, it would be 10 units. Continue on, 20db would be 40 units, 30 db would be 80 units, 40 db would be 160 units, and so on. You can see that one db when you're above 100 db is much larger than one db at the start of the spectrum. 
History, because we're nerds: 
The Chicago Telephone Supply company was founded in 1896 by the father and son team of A.J. and George A. Briggs partnered with S.A. Buffington, a Chicago Lawyer and has continued to lead the industry in the manufacturing and development of quality electronic components, and while their range didn't start with guitars, nor is the music industry a big player in their fortunes, their potentiometers continue to be the standard for our industry. We're always excited to carry a hometown company.
Share
View full details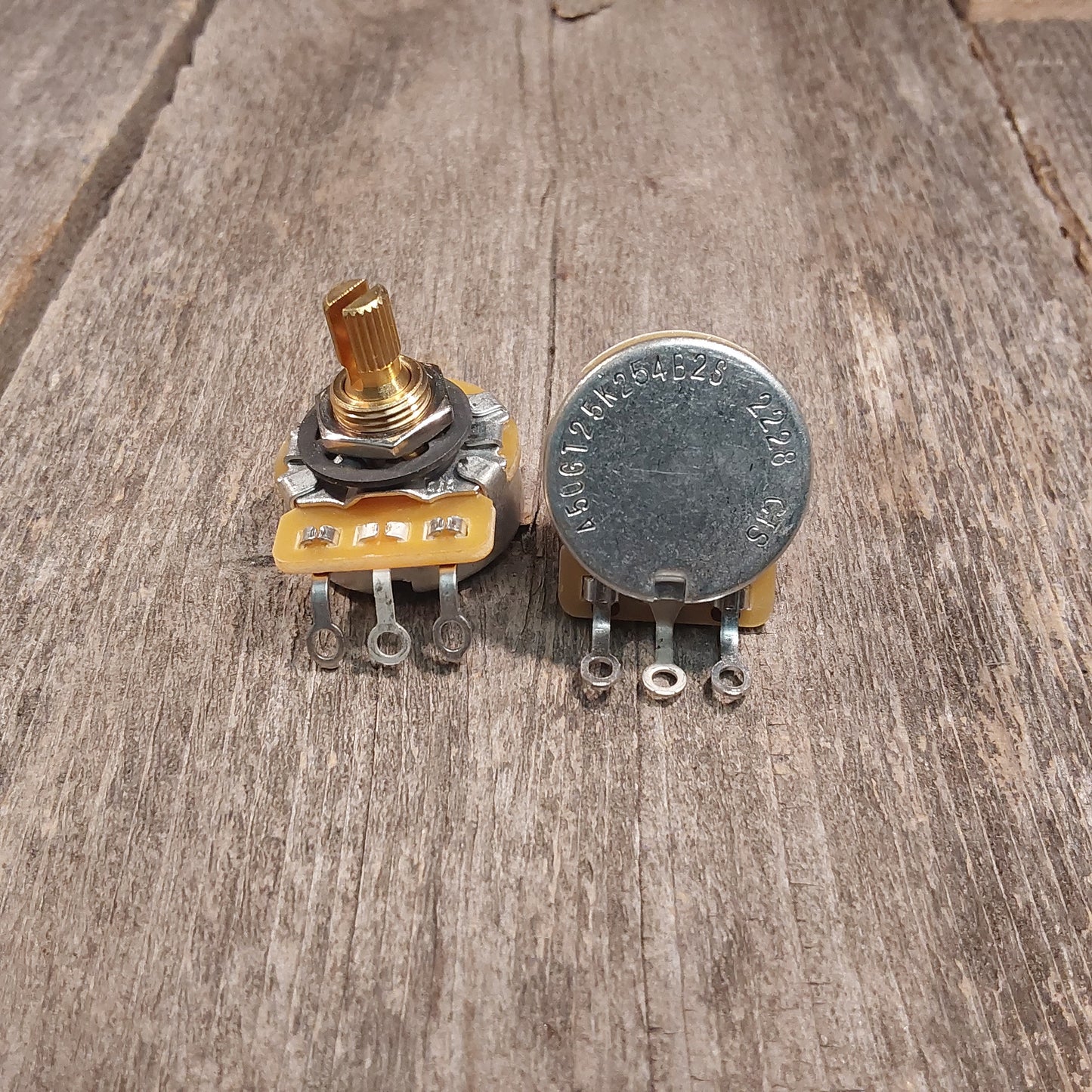 Image with text
Pair text with an image to focus on your chosen product, collection, or blog post. Add details on availability, style, or even provide a review.
Free Shipping

Pair text with an image to focus on your chosen product, collection, or blog post. Add details on availability, style, or even provide a review.

Hassle-Free Exchanges

Pair text with an image to focus on your chosen product, collection, or blog post. Add details on availability, style, or even provide a review.